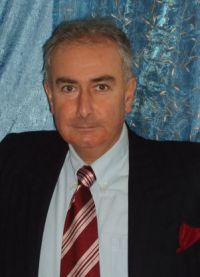 De Vignola was born in Rossiglione (Ge) on october 20, 1952.

After getting a diploma at the Art Institute, he completes his artistical education at the Academy of Fine Arts in Florence and in Brera-Milan.

In a short time he makes a name for himself as a portraitist, even if his landscapes, which reveal taste and sensibility, are very followed by collectors.

He paints also pictures that require a particular care, in which he proposes symbolist representations that see the figures exaltated in a masterly manner.

His works as a fresco painter can be found mainly in the churches of Liguria and Piedmont.

His landscapes, which reveal taste and sensibility and where nature shows in its most poetical and charming aspects, are much followed by collectors.

The artist expresses also in ceramics and uses a pastel colours delicate palette, giving rise to very personal and refined decorations.

His personal exhibitions have been showed in many italian and foreign cities; among the main cities we can mention: Rome, Milan, Genoa, Cuneo, Ferrara, Alba, Aosta, Alessandria, Chieti, Bari, and Sirmione and abroad New York, Paris, Recife.

In Brazil, at Recife, the Van Gogh Gallery deals with the sale of his works for South America.

In 1999 he has been selected to paint a painting for Jubilee 2000, that has been showed in itinerant exhibitions and, after them, it will be placed in the Museum of Bethlehm.